Australian Financial Review
Online September 4 2017
Australian Super purchase a stormy port
Ian Silk's highly paid in-house investment managers ("At Australian Super arrogance gets you fired", September 4) failed to earn their bonuses when Australian Super bought 20 per cent of NSW Ports, the lessee of Port Botany and Port Kembla, for $1 billion in 2013.
The NSW Treasury had jacked up the price of the two ports by promising to fine the Port of Newcastle for exceeding a low cap on container shipments, and paying this fine to NSW Ports, to maintain Port Botany's monopoly over container shipping in NSW.
The fine effectively doubles the cost of using Newcastle over Botany. The fine and the cap are not legislated. They are not authorised by the relevant legislation, the NSW "Ports Assets (Authorised Transactions) Act 2012". The Port of Newcastle was leased in 2014 so that the government could fine the lessee for exceeding the cap outside the operation of the "Commonwealth Competition and Consumer Act 2010".
If the fine and the cap were removed for being unlawful, Australian Super and its co-investors – 80 per cent of NSW Ports is owned by four industry super funds – would have to sue the NSW government to protect their $5.1 billion purchase.
The investment managers should be returning their bonuses.
Greg Cameron
Florey, ACT
Australian Financial Review
Letters: Moorebank Intermodal Terminal, cladding and Tony Abbott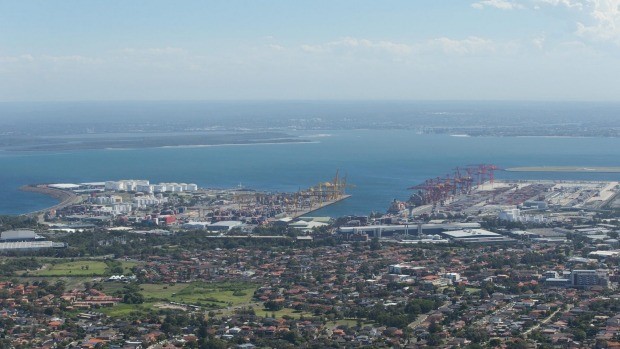 Port of Newcastle's role in NSW economy
Seventy-three per cent of all project benefits of the Moorebank Intermodal Terminal in western Sydney, now under construction, are attributable to
railing containers to and from Port Botany, replacing trucks. A further 17 per cent is attributable to interstate rail, but these benefits decline after 2030 due to Sydney's  insufficient rail capacity.
The economic study by Deloitte Access Economics, released in April, proves that railing 100 per cent of containers using the Port of Newcastle will generate four times more economic benefits than Port Botany, leaving ample flexibility for project financing.
Key additional benefits of a privately-funded rail freight bypass of Sydney, between Newcastle's port and Glenfield, in south western Sydney, include:
1. Uses all of Sydney's current rail freight capacity for passengers, thereby conferring a significant economic benefit by reducing
growth in road transport demand.
2. Replaces the need for building stages 2 and 3 of the Northern Sydney Freight Corridor, saving $5 billion.
3. Uses current rail freight capacity between Newcastle and Sydney for passengers.
4. Replaces the need for building the Western Sydney Freight Line, saving $1 billion.
5. Provides direct rail access to a container port at Newcastle to northern and southern NSW, providing a massive boost for regional
economic development and decentralisation.
The financial interests of the lessees of Port Botany/Port Kembla and Port of Newcastle can be enhanced by smart allocation of costs and benefits from building the rail freight bypass. This initiative will transform the NSW economy.
Greg Cameron
Florey, ACT
Australian Financial Review, May 1 2017
Another financial storm in our ports
IFM Investors' Brett Himbury "would like to see another round of the asset-recycling initiative" ("$10b inland rail certain to be a taxpayers' debt", May 1). IFM is a shareholder in NSW Ports Pty Ltd, which leased Port Botany and Port Kembla for $5.1 billion in 2013. A worse deal for NSW taxpayers could not be imagined.
It was uncovered in 2016 that the NSW government contractually committed to compensate NSW Ports for future container capacity development at Port of Newcastle. For every container handled at Newcastle, NSW Ports is to receive the amount it would have received at Port Botany. Port leaseholder Port of Newcastle Investments is the source of these funds. For a container terminal at Newcastle handling 1 million per year, the cost of compensating NSW Ports will be $100 million per year until 2063. When PON leases Newcastle's container terminal site for development, expect the leaseholder to claim the container charge contravenes the Competition and Consumer Act 2010. When the container charge is overturned, as it surely will be, the NSW government will be left without funds for paying NSW Ports. The government will pay from consolidated revenue, defeating the purpose of leasing the ports.
Greg Cameron
Florey, ACT 
NEWCASTLE HERALD March 29 2017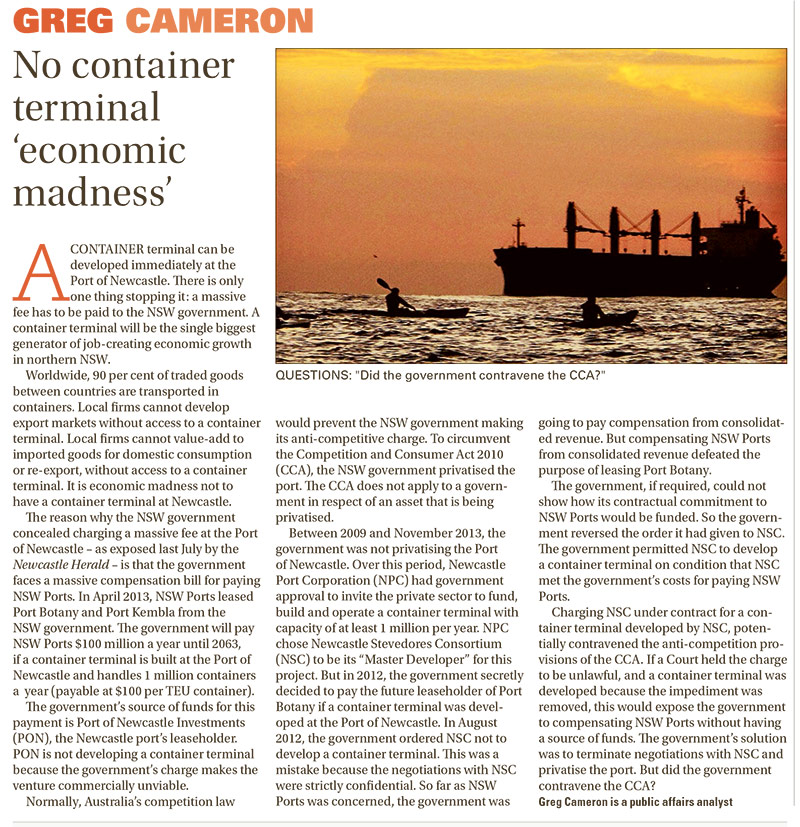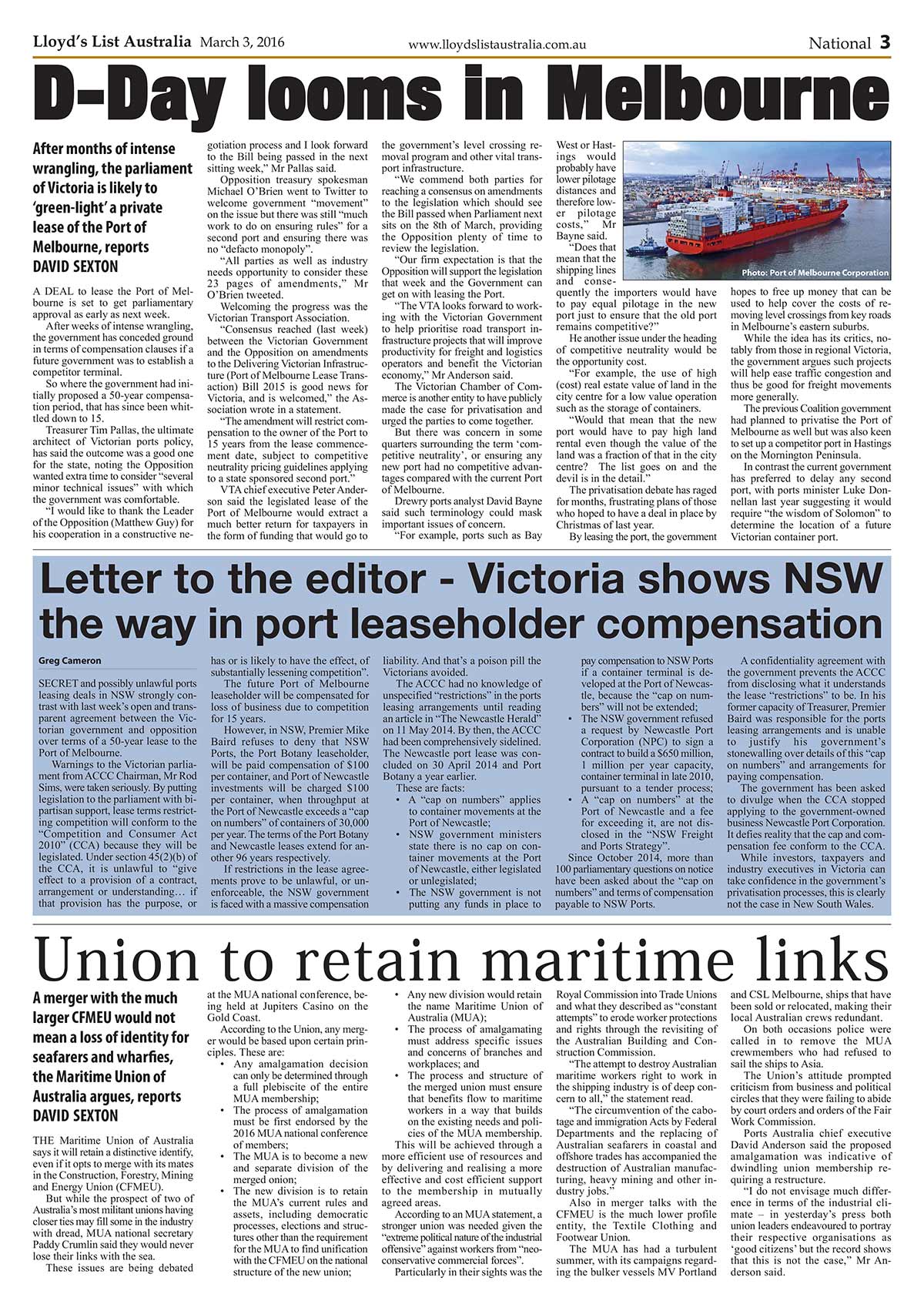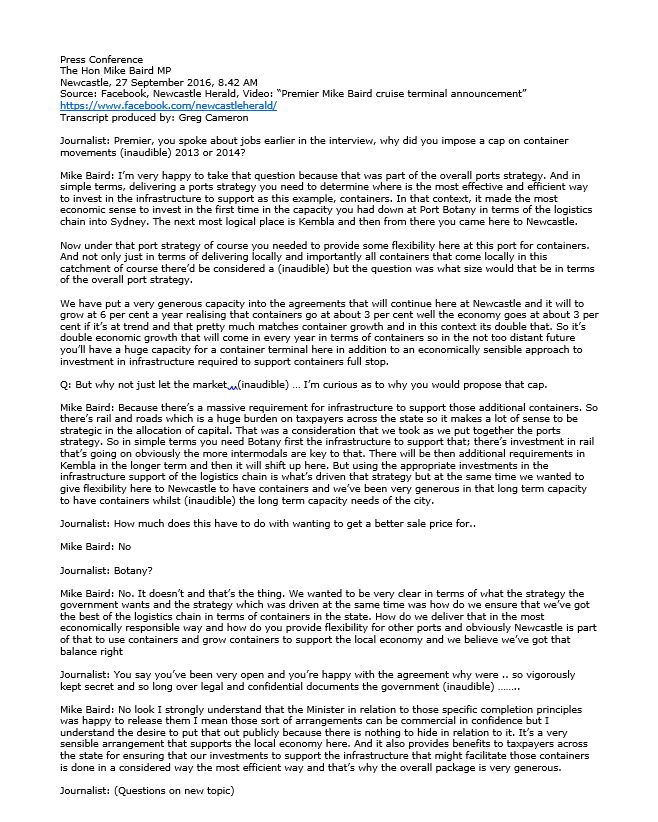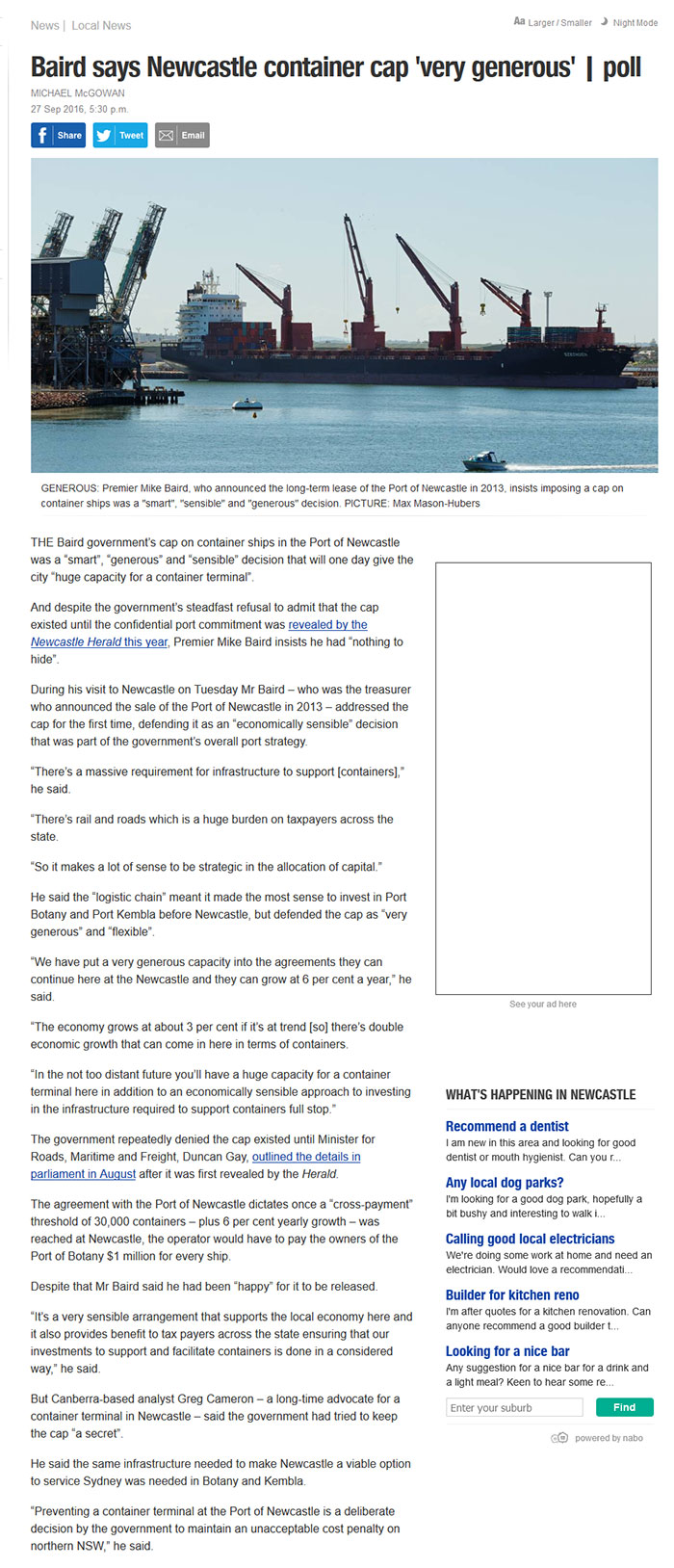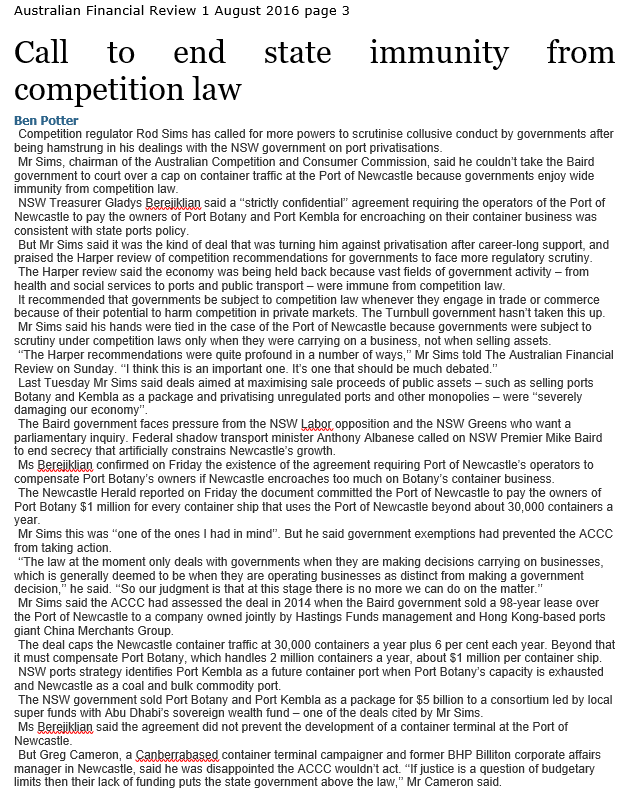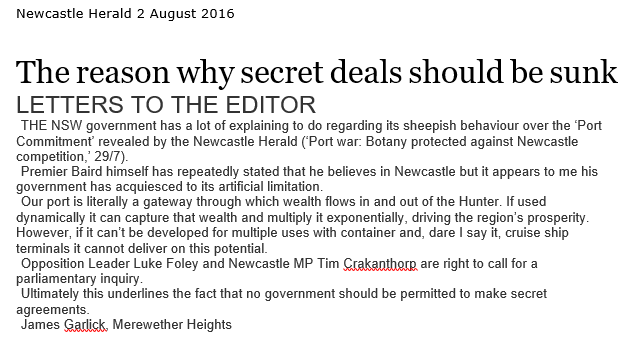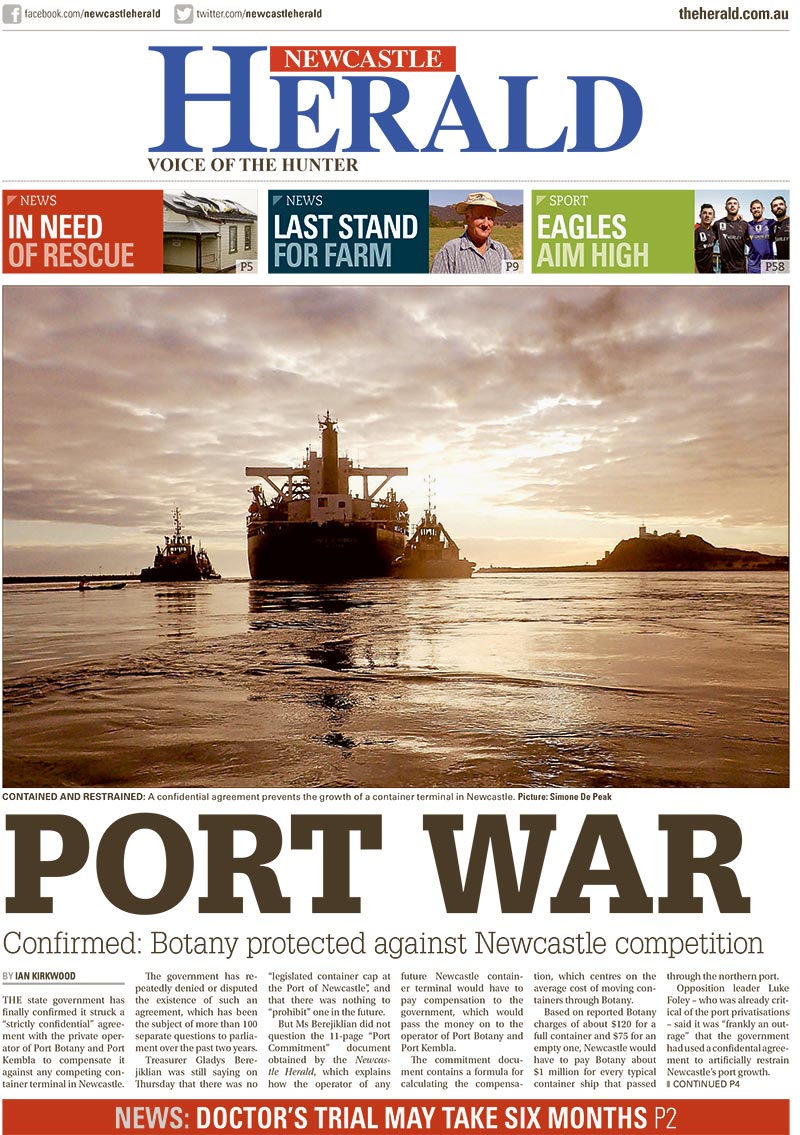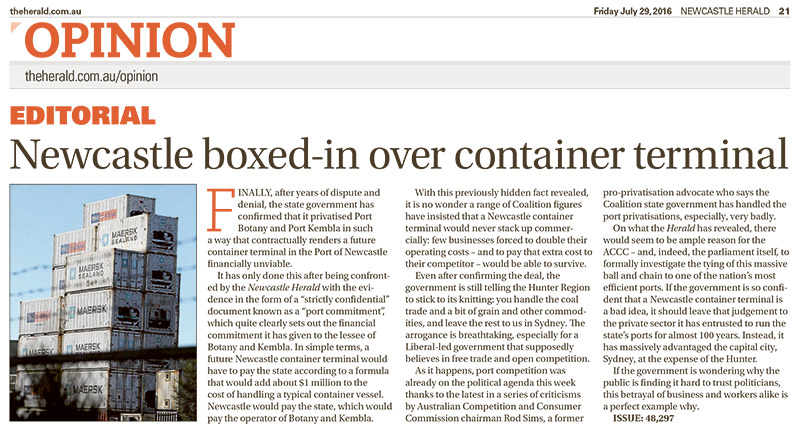 Australian Financial Review 28 July 2016
Newcastle Herald 28 July 2016
Newcastle Herald, 24 June 2016
Australian Financial Review, June 23 2016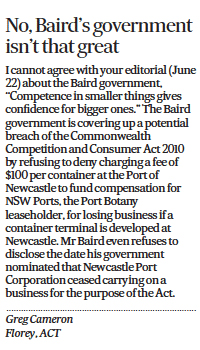 Newcastle Herald 27 May 2016
LETTERS TO THE EDITOR
DECISIONS BAD FOR REGION 
GREG Cameron yet again has exposed a major anomaly in the progression of important infrastructure in the region with regards to the building of a container terminal here ('Election is the time to revisit a container terminal plan,' Herald , 23/5).
He suggests the NSW government has imposed on Newcastle conditions which at least amount to a restriction of trade and at worst a manipulation of the market.
At this time we have imposed upon us a mediocre light rail plan, which may have some limited novelty value, but will more likely be disastrous. A plan not endorsed by anybody as the best transport outcome for Newcastle.
These two cases are only two of a raft of poor, vision-less decisions that have adversely affected our region by the state.
At a time where locals may be expected to be burning effigies of the Premier, where are our local representatives in the fight to free us from the yoke of this regime?
Tony Emanuel, Hunterview
Newcastle Herald 23 May 2016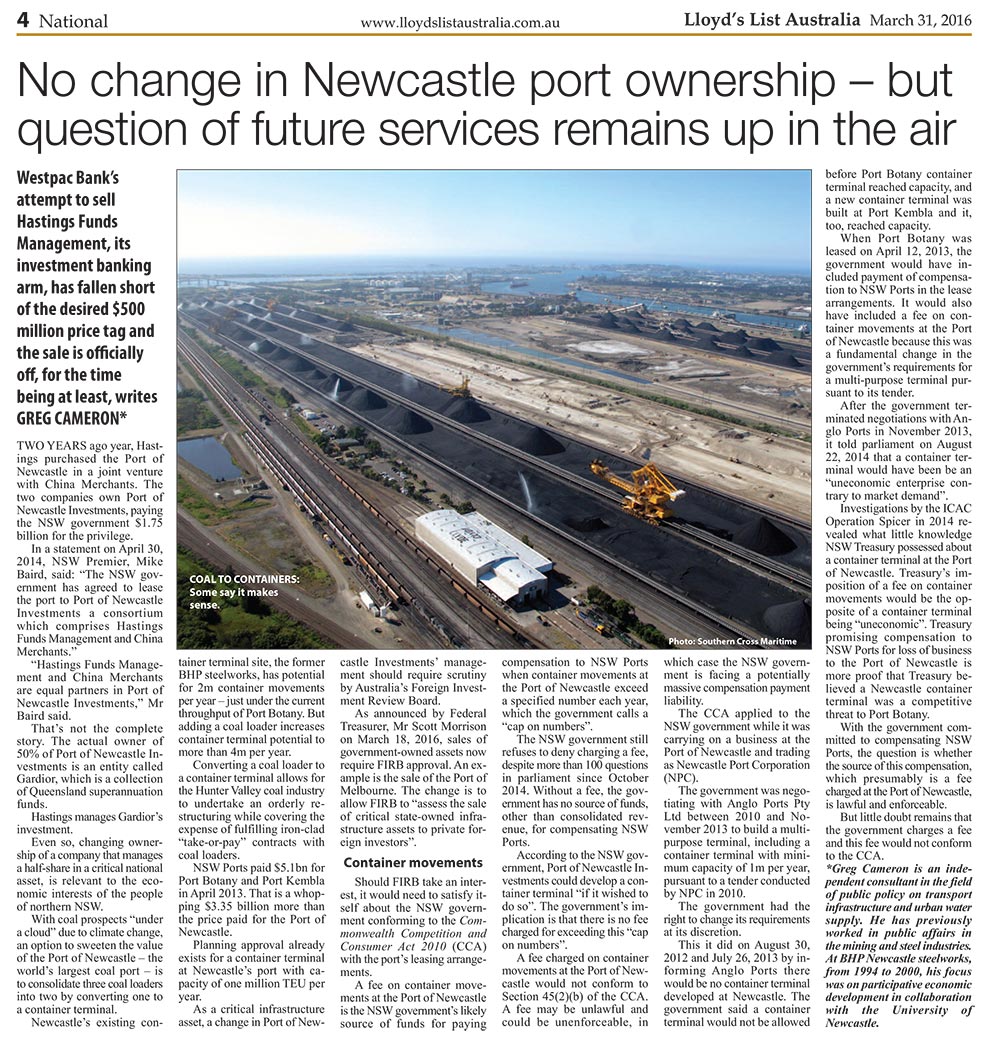 Australian Financial Review - Letters, 15 March 2016
TRANSPORT AND LOGISTICS NEWS